The rise of the WWE Women's Revolution. Daniel Massey FOLLOW. ANALYST Modified 09 Mar 2017, 17:06 IST. IMPACT Wrestling took a direct shot at WWE on Twitter this week, telling users that it was the Knockouts Division that created the 'original women's revolution.' The promotion posted a video showing to go along with its claim, showing a slew of highlights.
Hashtags can start revolutions. Laughing at social media isn't always unjustified, but the power it can hold can't be ignored when it comes to WWE's Women's Revolution. With that said, that power has a lot more oomph when it helps solidify a movement that was already in progress. Back in 2015, the women were given the opportunity to open WWE's Fastlane PPV (pay-per-view). Their match lasted for all of thirty seconds, while the rest of the card was solely that of the male superstars.
While this behavior wasn't necessarily new, something about that particular match lit a fire in the WWE community. Thousands and thousands of fans turned to social media and kept #GiveDivasAChance trending for three days. With such a vocal outcry, it was hard for the WWE to ignore what former wrestler turned COO of the company Triple H was working to do in NXT. Upon taking control of the wrestling giant's developmental brand, he began trying to change the format on which they judged their female competitors. He didn't just want models, he wanted the best and fiercest athletes to get first shot at the main roster, just as it was with the men.
A New Era
The progress in the Women's Division has been a bit of a slog, but it hasn't gone unnoticed by the Divas of old. Two of WWE's biggest female stars, Hall of Famers Trish Stratus and Lita, have gone on record talking about what it was like in the old days. They got a shot at a big event from time to time, but they were never allowed to be too excited or take up too much space in fear that those opportunities would be taken away. You can imagine what it meant to Lita when she got the opportunity to announce that the Divas belt was officially retired at Wrestlemania in 2016.
That retirement would usher in a new era of fandom for the WWE, opening the door to countless new fans who had interest in the sport previously but couldn't tolerate the existence of the "Ring Girl" mentality. No part of this journey happened overnight, and progress would still take time after the Women's Revolution was officially started, but eventually, more changes could be seen. In the past two years, we've seen the inaugural women's Hell in a Cell, Royal Rumble, and Money in the Bank matches, and have even seen the ladies headline episodes of the weekly installments. Each of these moments are met with palpable emotions from the women finally seeing these opportunities, and are frequently met with chants of "this is awesome!" from the live crowd.
Baby Steps Toward the Future
Like all movements, the Women's Revolution isn't without its faults. The writers are still trying to navigate how best to write for this new era of women, and there have been more than a few instances that the ladies should have been headlining a PPV that was instead given to the men's match for the umpteenth time. All the same, the momentum that has been seen in the Women's Division is unquestionable and has even helped pave the way for more progressive storylines in the WWE as a whole.
The Women's Revolution has opened doors for events like the WWE Mixed Match Challenge, a mixed tag event between the two rival brands. We've seen storylines about inclusion, bullying, body positivity, and evenly have openly gay wrestlers fighting on the main roster. The WWE certainly isn't a beacon of foreward thinking, but there's a real effort being put in by real people in their superstar ranks. Young girls and women alike have flocked to the sport in recent years, making it hard for the higher ups to ignore what's "best for business." With fans continually putting their money behind storylines and superstars with progressive messages, there's no stopping this revolution.
The pro-wrestling has been dominated by the men in all of its history. The big and strong men are the ones that headline wrestling events and are advertised as main eventers. Women are barely featured on the show and rarely are they placed anywhere near the main event. But that is set to change as WWE, the biggest wrestling promotion in the world will host its very first women-only pay-per-view event, Evolution.
The event was announced by Stephanie McMahon, who is one of the principal owners of WWE as well as the daughter of CEO Vince McMahon. She was accompanied by Vince McMahon, Triple H, and all the women working for WWE as this historic announcement was made on the July 23rd episode of RAW.
As per the announcement, WWE Evolution will take place on October 28, 2018, at the Nassau Coliseum in New York. The event will be streamed exclusively in the WWE network and will feature all the women from RAW, Smackdown, and NXT. In addition, the finals of the 2nd ever May Young Classic will be contested at the event, making it historic in every sense of the word.
WWE's Women's Revolution Continues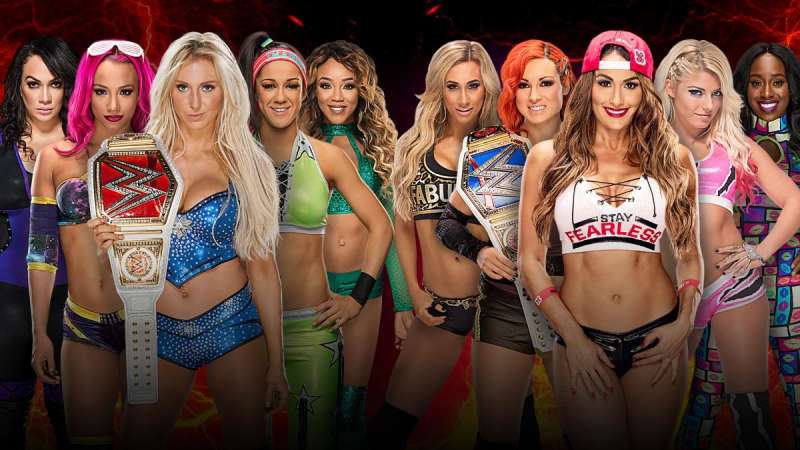 With the announcement of this historic event, it serves as the continuation of the WWE's so-called "Women's Revolution". This term refers to WWE's increased interest in promoting women's wrestlers and matches. It all started in WWE's developmental territory NXT, where under the tutelage of Triple H, women were given more emphasis, getting long matches and prominent position on the card.
That translated to the main roster when Stephanie introduced three of NXT's biggest women's wrestlers to the main roster: Charlotte, Becky Lynch, and Sasha Banks. Since then, women have been a major staple of WWE and stars like Charlotte, Asuka, Alexa Bliss, and Sasha Banks have been featured prominently and with the recent signing of Ronda Rousey, women's wrestling is at an all-time high.
Wwe Women's Revolution Shoes
Women's wrestling's progression is pretty visible with women being featured in high profile matches under the WWE umbrella. They have even been given the opportunity to headline a pay-per-view as Sasha Banks and Charlotte starres the main event the 2016 Hell in a Cell event. And now with a women-only event, this progression has reached the next stage.
WWE A Little Behind The Curve
Wwe Women's Wrestling Videos
While this announcement is pretty historic, one can't help but notice that WWE are a little late in doing this. They are trying to make up for all the years they presented women as sexual objects and featured in pointless bras and panties matches. Other promotions like TNA were featuring women heavily since the 2000s whereas Japan has separate women's wrestling promotions like All Japan Women's Pro-Wrestling.
Wwe Women Superstars
TNA has been promoting women for a very long time, Image Source: YouTube, we can say that WWE has been left behind and is trying to make up lost time. But we can also say that it is still a major step in the progression of women's wrestling and serves the right purpose.
Wwe Women's Revolution Documentary
EcelebrityMirror for more News and Entertainment.